We're bringing a whole host of wonderful games to Eurogamer Expo taking place at the Birmingham NEC, from 22nd - 25th September. On the stand you'll be able to get hands-on with no less than four of our forthcoming games. Headlining the roster is Warhammer 40,000: Dawn of War III, with 32 hands-on stations available for the first ever UK consumer play test. Players will lead a Space Marine army against an irrepressible force of Eldar and will need to test their base building skills to the limit in order to lead the Blood Ravens to victory.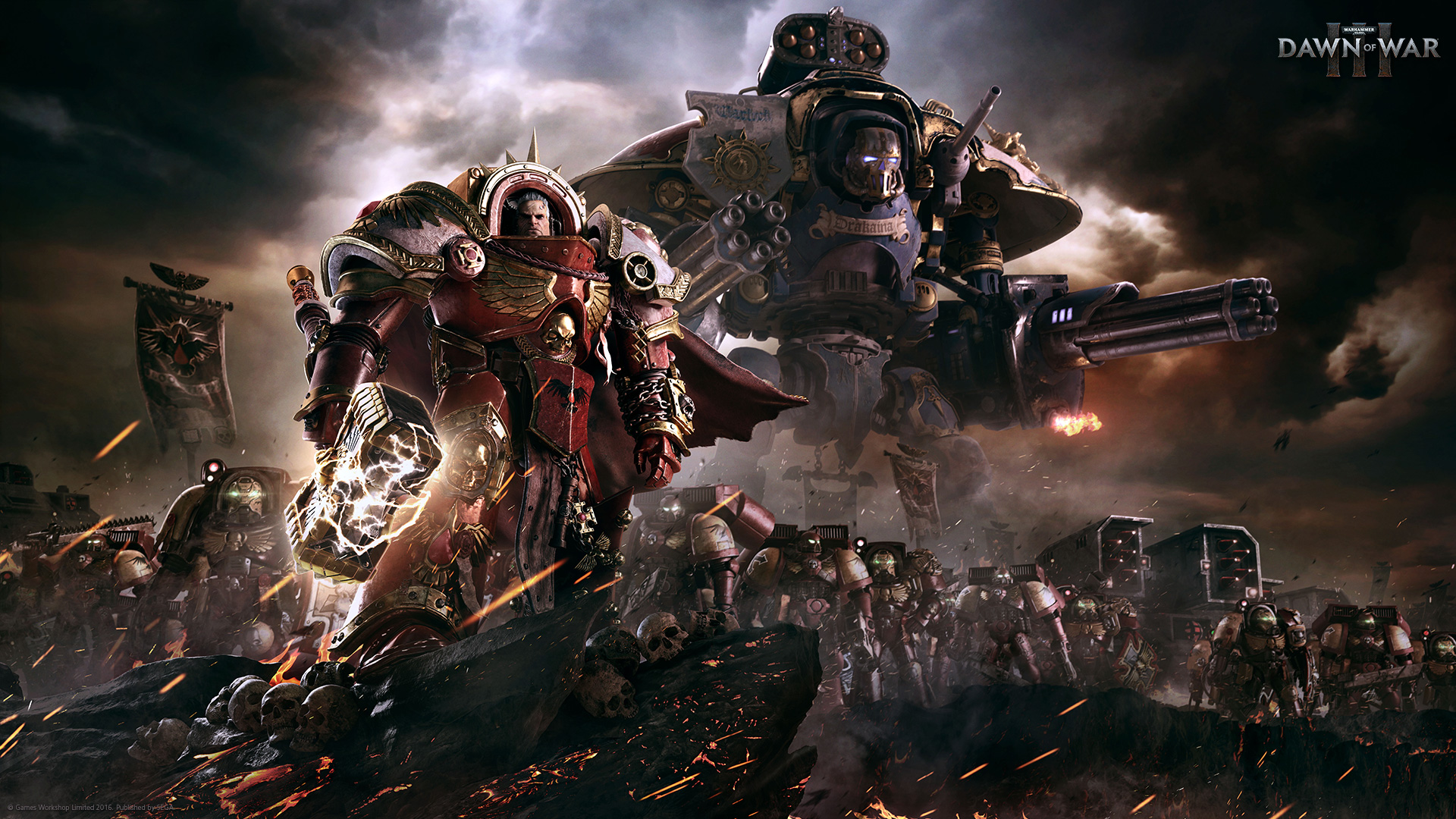 Right click to download desktop wallpaper
Sticking with the outer-space theme, Amplitude Studios, will be bringing the Early Access build of their forthcoming 4X strategy game, Endless Space 2. With five hands-on stations available, it's a great opportunity to experience colonisation and warfare in the far reaches of the galaxy without the need for real life warp coils. There will also be five playable stations for the brand new naval-themed expansion pack of Amplitude's fantasy-strategy masterpiece, Endless Legend, where players will be able to engage in high-seas warfare in Endless Legend: Tempest.
Back down to Earth now, albeit at breakneck speed, we have four hands-on stations for Playsport Games' Motorsport Manager. Taking control of your own single seater racing team, it's up to you to build the team, master the tech and ultimately win the race. Do you go with soft tyres or hard? How are you going to manage your international playboy driver? Are you going to bend the rules? You decide. All these decisions and thousands more will be the difference between eternal glory and motoring ignominy.
Last, but by no means least, it's the return of the 'Blue Blur' himself to Eurogamer Expo, as Sonic the Hedgehog will be whirring into action on four playable stations for Sonic Mania. It's the game that brings fans back into the world of platformers with nostalgic pixel-style art and core classic gameplay, through the reimagining of iconic Zones and Acts from Sonic The Hedgehog, Sonic The Hedgehog 2, Sonic CD and Sonic The Hedgehog 3 and Knuckles. If that wasn't enough, it'll feature all new Zones, Acts and Bosses, so come and check it out on the SEGA stand.
If you're looking for a deeper understanding of how our games are made, then we have two 'Developer Sessions' lined up that will satisfy your thirst for knowledge. On Friday 23rd at 12pm, Amplitude Studios will be taking to the stage to discuss 'Narrative Design in Sandbox Strategy', with the studio's Narrative Director on Endless Space 2, Jeff Spock. Also on Friday 23rd, at 4pm, the 'SEGA Strategy Gaming Panel' will take questions from a compare and from the audience, discussing their influences, what makes a great strategy game and various other aspects of strategy game design and development. It will feature three developers from across SEGA's strategy titles and we will unveil the panellists next week!
For the fifth year in a row, SEGA will be sponsoring Eurogamer Expo's excellent indie exhibition, the Leftfield Collection, curated by indie expert, David Hayward. If you're looking to meet some of the development stars of the future, this is the place to go. Christian West of Playsport Games showcased the original, and best-selling iOS version of Motorsport Manager there in 2014 and now a PC version is in development in partnership with SEGA!
If you haven't bought your ticket yet, what are you waiting for? Go here and buy it!
So that's it! Come to the SEGA stand, play our games, watch our developer sessions and most importantly, talk to us, we love to hear your feedback, or follow us on Twitter or Facebook.
Share this post